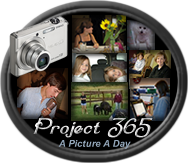 I don't need to be reminded that I have missed week 15 and week 16. I have the pictures I just don't have the stamina to post them at the moment.
I will.
Someday.
Maybe.
However, here is this past week. We had a great week without so much afterschool activity...phew. I got to see a little more of my hubby...thank goodness, and I was a lot less stressed...amen.
Sunday April 17:
Yep That's Me
Did I mention in the midst of my crazy week I ran a 10K? Well I did. It was a nice day for a run and I finished in 1:09. Slower than my first race but faster than my last one. I didn't run at all the week prior (at school until super dark o'clock)...so I was happy that I finished and in a pretty good time. Up next a half marathon in October if I can just keep my left pinkie toe from falling apart on all my long runs. Any pediotrists read my blog??
Monday April 18:
Pretty!!
I finally got my flowers that I got from one of the Narrators in Joseph put into a vase today. They are so beautiful. I just get sad when they die...but right now they are a bright addition to my kitchen..
Tuesday April 19:
Drop Tuck and Hold
We had an earthquake drill and my students Katharine and Sara were chatting with me in my room as the alarm went off. My room isn't equipped with anything too heavy to hide under so the chairs will have to do.
Wednesday April 20:
FORE!!
I feel like I have to duck and cover each time I watch a 5th grade volleyball game. Let's just say that they aren't as accurate as they will be and they sometimes don't know their own strength. Still I love watching my girl do just about anything so I was happy.
Thursday April 21:
A Performance
Bella's Lower School Chorus performed today at the Earth Day assembly. My girl is in the front row second from the right. They sang Big Yellow Taxi and sounded wonderful.
Friday April 22:
Boredom
This is what Bella does when she is bored. She paints beautiful pictures.
Saturday April 23:
Heaven Help Me
There are so many things that upset me about this pictures. All fail in comparison to the fact that my little boy is growing up right before my eyes. All in all he is a pretty good driver for only being behind the wheel a couple of times. Maybe he'll be like me. I have only been in one accident and it wasn't my fault, and have only received one ticket in my entire life and it wasn't even speeding, it was for pulling into a turn lane too soon. Yeah lame I know.
In Summary:
Oh, Lord I am feeling old this week. Creaky bones from my 10K, my son is driving, and my daughter is growing up too. I guess I could look at it as me being young...right??? I am still able to run a 10K, teach my son to drive, and enjoy every bit of my daughters talent. Yeah...that's how I am going to look at it too!!
More Later
- A Ro