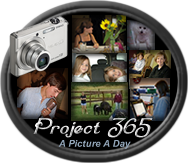 Well it has been a wonderful first week of Spring Break at the A-Ro household. It has gone by so fast, but I have enjoyed every dull normal minute.
Here is a peek:
Sunday March 27:
Lazy Maggie
So this is what she does all day when I am at work...such a lazy doggie.
Monday March 28:
Perry the Platupus
Bella worked on her Benderoos and made her favorite Phineas and Ferb character Perry (and quite frankly mine too). He turned out so good!!
Tuesday March 29:
Winner Winner
I FINALLY sent off my
little giveaway to the host of this here Project, Sara. I hope she enjoys it.
Wednesday March 30:
They're Back
Bella had to have some Peeps today. I am not really a fan, however, I do like them when they are a little stale and crunchy...am I wierd?? (Don't answer that)
Thursday March 31:
I Know It's Sideways
I couldn't get this picture to load correctly...odd. Bella and I made cupcakes from scratch today. I love to bake and decorate and she is such the artist. The cupcakes are vanilla the icing is buttercream and the decorations are made out of fondant. Such fun!!
Friday April 1:
Mama Don't Let Your Babies Grow Up To Be...Drivers
Andrew got his permit today and his Dad let him drive around the neighborhood. Lord help me this is not an April Fools Joke.
Saturday April 2:
3 Down 3 To Go
I finished my third strip in my blanket today. It is starting to look like a blanket!! Lots of baseball and basketball on TV today so I got quite a bit done!!
In Summary: Did I mention how much I like Spring Break?? I get to bake with my girl, play with my doggie, get errands done, and knit!! Not to mention watching my boy grow up right before my eyes. Well this week was ALMOST perfect.
More Later
- A Ro