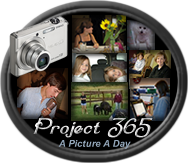 It is Week 18 here at the ranch and my week was very nice indeed.
Head on over to Sara's blog and take a peek into all the other 365-ers weeks. Heck just make a plan to join us next week with a photo a day. It is never too late to start.
Here is my week:
Sunday April 24:
We Love Our Mama...er Easter Bunny
It is Easter Sunday and my 15 year old and 10 year old still LOVE the scavenger hunts for their Easter baskets. I hide clues around the house and they go off and search. But what they loved the most this year was the puppy chow I put in their baskets. Don't worry it isn't ACTUAL puppy chow...just chocolate peanut butter heaven, in my opinion. We didn't go to church today because we started going to a new church and didn't want to be one of THOSE people who only go to church on Easter Sunday. It was a truly blessed day.
Monday April 25:
Guess Who's Camera is on the Counter??
Yep...mine. This is a poster I did for our Middle School elective fair tomorrow. It has a bunch of celebs and athletes who sang in choir when they were younger. The kids got a kick out of looking at all the people who sang in choir. Hopefully, it will make a few of them choose to sing in mine!! Sorry that the picture is so small I have NO idea how to make these pictures any better off my phone.
Tuesday April 26:
Guess Who Left Her Camera on the Counter AGAIN??
Yep it's me...The Fifth Graders had their Year at a Glance festival today. They all get assigned booths and present all the things they did in Fifth Grade this year. Bella was one of three that were in charge of the Global Studies booth. She dressed up like a tourist...she was, needless to say, a very cute tourist.
Wednesday April 27:
ASTRO CAMP!!
The Fifth Graders went to Astro Camp today. They will get back on Friday. It is Bella's first overnight camp trip away from home. She had a great time and her BFF Chloe was in her dorm. I missed her but am so glad her first trip away from home was a success!!
Thursday April 28:
Yep...Another Baseball Game
Actually you are lucky because This was Andrew's fourth game of the week. He looks like a ball player...don't you think??
Friday April 29:
Bella's Back
We celebrated her successful trip with frozen yogurt at Menchies. They have these new spoons and Bella is making the face of the little guy on the spoon. She wanted me to make sure you knew that so you didn't think she was just making a stupid face...
Saturday April 30:
Birthday Baseball
Another baseball game today. It was also one of my student's and teammate of Andrew's birthday. It was a nice but windy day for baseball. Happy Birthday Alex!!
In Summary: Lots of baseball this week...as usual. My girl grew up right before my eyes and we had a good time celebrating God's grace.
More Later