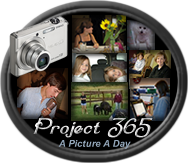 I started back to teacher days today, and I feel very excited about this new year. We get kids next Tuesday so I have a lot of stuff to try to get done!! Plus sharing wedding pictures with all my colleagues is a very time consuming thing :)
My Project 365 is a little late and definitely not as exciting as last weeks. It is full of inanimate objects...not too sure why except for the fact I was busy getting things organized and ready for this week.
Sunday:
Comfy Spot
We fixed up the balcony off our bedroom today. It is a very nice spot to relax. Very serene.
Monday:
Back to Soccer
We had our first soccer practice today. Bella is very excited about this season and she is lookin' good!!
Tuesday:
Ahhh!
Organized my scrapbooking closet today. Went through and organized pictures and feel ready to start scrappin' again. I am only 4 years behind so I should be caught up again in no time...uh huh!!
Wednesday:
Red, White and Blue as Far as the Eye Can See
School clothes shopping...check!! It is so easy to get ready in the morning, grab blue shorts, grab red white or blue shirt, and done. I love school uniforms.
Thursday:
Wouldn't You Like to be a Pepper Too??
I got this lunch box for Bella for her birthday, just for fun but she wants to use it for her school lunch box. Lunch box...check!!
Friday:
Wedding Pics Ready to Hang
Just purchased some frames for our wedding pictures, just waiting for Shutterfly to send the pics. I'll be sure to post pictures of the pictures...ha ha.
Saturday:
A Dream Come True
Rich got me tickets to Dave Matthews Band concert for my birthday and tonight was the night. It was an absolute dream come true. I have wanted to see him for about 18 years and finally someone bought me tickets and said "Come on let's go"...what a guy. It was a great night and concert. Thanks honey!!
A seemingly calm week, but I got a lot done. I hope you all can forgive the late posting and the ordinary pictures. But they perfectly captured this week for me.
Again, it is obvious that I am blessed and I am in such a wonderful happy place right now in my life. I am so thankful!!
More Later
- A Ro