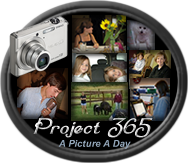 Again, this time of the year is just flying by. I am enjoying every minute of it. Sorry this is so late, but this weekend was very busy (as all of ours are).
Please enjoy peeks at the last few weeks of this wonderful year.
Sunday:
Artist Bella
Here is Bella's latest art work. It is her first oil painting. I am so amazed at her artistic talent.
Monday:
Athlete Bella
Today was Bella's sports assembly. She was touted as the defensive player that the other team hated to play against. I was so proud of her.
Tuesday:
Shoes Glorious Shoes
I got my free gift from DSW in the mail today. This bag makes me happy. Not as happy as shoes, but almost.
Wednesday:
...And the Stockings Were Hung...
This is one of my favorite sights this holiday season. All of our stockings hung together. It makes me very happy.
Thursday:
Bella's Fractal
Bella got to do art in math this week. This is her finished project. This picture doesn't do it justice.
Friday:
Wow What Big Eyes You Have
How much do I love this girl. She is smart, funny, beautiful, and...SILLY!! She created big eyes for her and cut slits in them so she could see. Did I mention she is practical?
Saturday:
Yep...Saturday Night At Target
What do you do on your Saturday night?? I go grocery shopping and go to Target. Make that WE go grocery shopping and go to Target. Bella and Rich went too. It is actually a good time to go...not very busy at all. I am more than sure that I'll be gracing these doors a dozen or more times before this season is over.
In Summary: Yes I do still have a son, just not a photogenic one. I obviously have a very talented daughter whom I love dearly...and from the looks of it we spend a lot of time together. I am very happy to be in the holiday season even if that means daily trips to Target...and free bags from my favorite shoe store. I am such a lucky blessed gal.
More Later