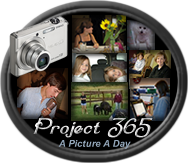 Oh, My Gosh!! Oh, My Gosh!! A-Ro is posting a week in pictures!! I know it has been awhile, but it is about time gol-darn-it.
It was a very good week and it is a week that is leading up to the last week of school...phew.
Head on over to
Sara's
and look at everyone else's week. I guarantee you they are a little more consistent than me...but hey, everyone can't be perfect.
Enjoy mine!!
Sunday May 29:
A Proud Day
Rich's son graduated from high school today. He graduated from the same high school Rich and I graduated from so it was really neat to attend this graduation. Rich was very proud and emotional today. I was honored to be there too.
Monday May 30:
Cute Couple
Sarah took this picture as we were saying goodbye. We had a great visit.
Tuesday May 31:
Maggie's Going Home
We picked up Maggie from the kennel tonight, she gets so excited when in the car. We missed her.
Wednesday June 1:
Congratulations Nana!!
My Mom had her retirement party today. She is retiring from the Des Moines Public School system. She is a music teacher. Everyone (except for us...sigh) went to her party. Thanks Mom for being such a great role model for me and all your students, we are very lucky!! Thanks Stacia for posting this picture, next time remind Greg that he shouldn't look at the kids, but at the camera. Ha Ha.
Thursday June 2:
Face Painting in Choir?
It was our last day of Middle School Chorus so we had a fun class. Camden brought his face painting stuff and painted some faces. I just love these kids.
Friday June 3:
My Little Soloist
Today was Bella's final assembly. The fifth graders were honored and she got a little duet part in their song We Are the World. Needless to say I was SO proud.
Saturday June 4:
Trader Joe's Recipe
Disregard the fact that Blogger kept trying to "fix" the orientation of my picture...This is Lentil Salad. Trader Joe's sampled this today while we were there and it was tasty (and easy), so we made it. I'll post the recipe in tomorrow's weekend highlight reel.
In Summary: I had a very special week full of witnessed milestones and non-witnessed milestones. We got some normal family time with both families and are headed into the final week of school full speed. Check back for some more!!
More Later
- A Ro