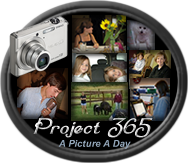 Another very busy week in our household, but it seems to be slowing down a little bit...at least for the time being!!
Here is a peek into that glorious busy week. Head on over to Sara's and check out everyone else's glorious busy weeks.
Sunday:
Cock-a-Doodle-Doo
Final day of Annie...PHEW!! Here is me and our Rooster. He is such a great kid. The kid trying to get into our picture hardly ever smiles, so at least I caught this one on film.
Monday:
Creations from My Bella
On my desk, amoung other things, are these two items; the highlighter dude, and my Bob clock. Bella sits at my desk and creates. She made my highlighter dude have a missing tooth, a black eye, and fire hair. She gave Bob a top hat and a bow tie. I am constantly finding things on my desk that she "alters". She is such a funny, creative gal.
Tuesday:
SHARK!!!!
This is kind of cheating as I didn't actually take this picture, but my sister-in-law sent me this picture today and it made me smile. I have a few more cute pics of my niece and nephew from Halloween for later in the week, but Elvis (the dog) all dressed up cracked me up. Too cute!!
Wednesday:
Also Cheating...a Little
I asked Rich to video tape my concert this evening. (I promise I'll post some video of my groups) Since he was video taping we didn't get any stills. So I took a picture of the video screen. This is my Upper School Chorus. The concert was amazing and I was so proud of all my kids!!
Thursday:
Say Good-bye to Me Now
Tonight I picked up this book. Now I love Dan Brown and I am afraid that I won't be able to put it down...well I am almost half way done and I've had it three days...so you do the math. It is a good book.
Friday:
Chicken and Mushrooms in a Marsala Sauce
I had the day off today, so I had the opportunity to actually cook something without feeling rushed. I made this yummy dish (one of Rich's favorites). It is a Cooking Light recipe and it was so good. I would like to say that I'll put the recipe up, but I always say that and never do. Maybe this time...
Saturday:
A Good Conference
Rich and I went to an all day conference today. Oh my gosh was it good. A good gathering of a lot of helpful people, and a great keynote speaker who is an expert researcher. She had all the stats (good and bad) and really gave us some great ideas on how to fight this. We walked away with some really great information, and not a doubt in our minds that we are right.
In Summary: The week started off getting to show off my students, and ended with a good meal and some hope. I would say it was a great week.
More Later