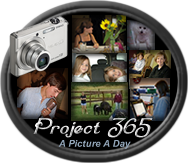 It is week 14 and we are done with March...wow Really???. This was also the first week of my spring break and we got a lot of things done in a very relaxing way. Just what I needed. Go on over to
Sara's
blog and see what everyone
else's
week was like.
I made clam chowder in a bread bowl. Oh.My.Gosh. was it good. Less then 200
cals
for a serving of chowder, the bowl was extra (of course). Rich and I decided it is a keeper recipe.
Monday:
Here we all are, well except for the camerawoman, getting read to watch our favorite show Chuck. This is the ONLY show that I watch regularly, as in I haven't missed an episode. We all have our "spots". Mine is in between Andrew and Bella.
Tuesday:
Today was one of my white tornado days. I completely went through and
de
-cluttered and organized Bella's room. I didn't take any before pics, but here is her very clean closet. We went through and organized all her Barbies for the garage sale. I hope she makes some money because she really worked hard today.
Have I mentioned how much I HATE garage sales
??
Wednesday:
OMG

It's Andrew and Maggie
Maggie is just such a easy going pooch. She loves it when we cuddle up with her. Here is Andrew all snuggled up with his favorite dog. I KNOW I got a picture of Andrew. I wanted to take another as this one's lighting was bad, but he would have nothing to do with that. I really need to get better at capturing him in one shot, cause you know there isn't going to be a second chance.
Thursday:
My former student who will be graduating COLLEGE at the end of this year met me for lunch. This girl is so special to me. She was a music teacher's dream student and now she is a dream alum. She always makes me feel like I am a good teacher and she cares so much for my kids. She is a definite ego
inflater
!! I know she will be such a success on her next journey. Isn't she also gorgeous?? (and yes I cut my hair off)
Friday:
We didn't have the kids so Rich and I used the rest of my gift certificate to a very
shee
-
shee
-
fru
-
fru
restaurant in Malibu. We had
Yellowtail
Sashimi
(Rich's Favorite), soft crab shell cut roll, sole with crispy spinach, and to die for tempura rock shrimp in a creamy spicy sauce. It was
sooo
good!! We had a great date night and enjoyed each other's company so much!!
Saturday:
It was John's weekend with the kids, but he knows how much the kids and I love having Easter together. So he let me have the kids tonight so we can do Easter together tomorrow, complete with a scavenger hunt for their baskets. God has blessed me with an ex who really cares about our kids enough to know how to make this divorce situation work for the kids. This is the way it is supposed to be. It was the perfect night for a fire. Rich's started up the fire pit and we roasted marshmallows and had
s'mores
. The kids really enjoy our fire pit. It was a great gift for Rich if I do say so myself!!
In Summary: I love having some time off. I love it when my house is organized and
de-cluttered
. And I don't want to jinx it but three of my seven pictures have Andrew in them...wow. Having family time is a real blessing for me, but some alone time with Rich for some really expensive Japanese food that we got for free is also really nice!!!
More Later
- A

Ro