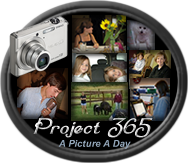 It is time once again to go visit
Sara's blog
to get a glimpse into everyone's week. Here is a peek at mine, and yes I do know which week it is this time. It is amazing what a little sleep will do for you!!
Sunday:
That's My Girl

She is the sweetest most kind hearted girl I know.
Monday:
Spring Soccer Party

The Purple Penguins (I wonder who talked them into that name??) had their team party on Monday. They had a fun season and Bella is looking forward to playing again this fall.
Tuesday:
Where's Your Ball Maggie???
Maggie loves her pink tennis ball. She has the normal colored tennis balls, but it is this one that she will go find when you ask her where her ball is, even if the others are close by. Tonight she was yelping and howling at the underneath of the bed...she really wanted her ball.
Wednesday:
WOOHOO!!
Wednesday is our normal ice cream night, so much to our surprise this past Wednesday was 31 cent scoop night. Bella was my photographer and I appreciate her attempt to make me think I am loosing my eyesight with this blurry pic. It was for a good cause, the local fire department and all the cadets were scooping ice cream. Glad we went.
Thursday:
Why I Love Being A Teacher
These are three of my students Kaley, Katharine and Sara. Katharine decided two years ago that she would start a box top drive to adopt a puffin. Barbaras cereal make Puffins cereal and by saving box tops you can adopt a puffin. Katharine decided our choir needed to adopt one. You can check out the site www.projecpuffin.org if you are curious. We need about 250 and I think that we have about 50...so as you can see we are well on our way a little behind. Katharine and the girls found out that I have a blog and they thought that by advertising our cause on my blog we might be able to make our goal before Katharine (or at this rate her grandchildren) graduated. So all 6 1/2 of you if you eat Puffin's cereal and want to send me a box top let me know I'll e-mail you my address. P.S. I love these girls!!
Friday:
BASEBALL AGAIN
This picture represents the gorgeous surroundings that I get to enjoy while living in CA. It doesn't show the amazing amount of traffic I had to endure while getting to and from this amazing location. I'll have you know that I am getting better at being patient while enduring said traffic...serenity now, serenity now!!
Saturday:
Elvis Has Left the Spin Room
We had a themed spinning class today it was an Elvis spin!! He gave us all Elvis glasses, and proceeded to work our buns off...hopefully mine got the hint.
In Summary: I am thankfull that I had a much more relaxing week. I have the greatest kids and the best students who give me life force daily. I am one happy, blessed, Elvis spinning, baseball watchin', 31 cent night loving girl. I am so blessed.
More Later
- A Ro