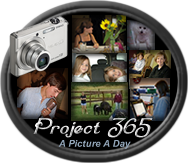 Sara calls us to link up our project 365 over at her
blog
.
I am excited to share my week with all of you. Head over to Sara's and check out everyone elses pics.
Sunday:
Where Is Your Ball Maggie?
Either she is very patient or follows "the out of sight out of mind" mentality of a baby. She just sat there with her ball in her collar. She didn't try to get it at all. She usually only gets it if we throw it. If we put it on the floor in front of her she will just look at it and look at us. She is such a good dog.
Monday:
Waiting Patiently...Sorta
As I was trying to be patient and thankful while waiting for my coffee, I decided to snap a picture of the beauty that I have to look at while waiting. It really made me appreciate that morning...even the waiting.
Tuesday:
My Kidlets
Got a shot of Bella watching Andrew (number 2) warm up to hit. She found this table and chair and worked on homework at the game. She got it ALL done. I like this picture.
Wednesday:
Orange???
My old phone stopped working and was, thankfully, under warranty. They sent me a new one and instead of a beautiful rosy color, as I had before, I got ORANGE. Oh well, it is orange and black my high school colors. Plus if you think I am going through the hassle of trying to get my old color back...think again.
Thursday:
Silly Girl...As Usual
You can always count on Bella for some daily silliness. I so love this girl.
Friday:
Giggly Girls
We went to my schools Middle School play last night. Isabella invited her friend Alex to come with us to dinner and to the show. They both loved teasing Rich, and secretly he had fun too.
Saturday:
Finally

I have been looking and looking for this cup for about a year now. I have the smaller one, and just love it. In trying to use less plastic, I started my hunt again. I went to about a dozen stores and they all were sold out. I went on-line and couldn't find any, except the $40.00 ones on e-bay...psh..yeah right. I decided to just stop looking and focus on being thankful for the one I had...lesson learned from my new book. Then all of the sudden last night while in Starbucks, there she sat on the shelf, as if to say "Hi friend, here I am"...
In Summary: Good things happen to good people. I know reality and I know who I am. I am a gal who loves my kids, who loves all things orange, and who is blessed to live (and wait) in a beautiful town. The universe is good to me.
More Later