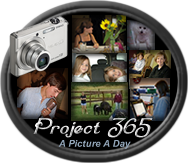 I have been a little awol around here lately. When I don't blog much I actually miss it...crazy huh?? I'll get back to it this week.
HOWEVER, I did manage to keep up on my Project 365, so here it is week 20...
Sunday:
MMMM Good (and the stew looks good too)
Rich cooked me my favorite beef stew for dinner. This is a very high maintenance recipe and he did a fantastic job. There is nothing better than seeing a man cooking in the kitchen...am I right???
L
Look Ma There's A 'Coon in Our Tree
Monday morning as we are getting ready for school Maggie was just barking like crazy at our tree. Bella went out and spied a raccoon perched up in the tree. She got this picture just before I made her come in, didn't want no 'coon deciding he didn't like my girl takin' his picture.
Tuesday:
B
BFF's
Rich loves his little girl Sarah more than anything in this world. He misses her and wishes he could talk and see her more often. To say Bella is replacing Sarah couldn't be farther from the truth. Likewise, Bella loves her dad very much, and Rich could never take his place. However, I think that Bella and Rich are finding small places in their hearts for each other. It really warms my heart to know that Bella has Rich in her life and that he has her.
B
I found this note in my ipod case. Bella is always leaving me notes everywhere. She is such a kind and wonderful girl.
Bella Dancerella
Bella had her open house assembly today. She danced and sang in the choir. She amazes me every time I see her up on stage. She is so poised and beautiful without a trace of arrogance. I love watching her perform.
Friday:
Winner Winner Chicken Dinner
Andrew's baseball team won their division tonight. It was a hard pressed win. Bottom of the 7th (they only play 7 innings) and they tied it up. Top of the 8th the other team scored and then bottom of the 8th we tied it up and then...2 outs...bases loaded...and we got a hit to win the game. Andrew got a game ball even though he didn't play, because he stole the other teams signs and kept such good stats on the bench that he knew which pitches they were going to throw AND which pitches the other teams batters couldn't hit. That is my boy!!
Saturday:
Look at that Lovely Bunch
My vocal jazz group got asked to sing at this years benefit. We got all dressed up and went to the Four Seasons and performed. It was a lot of fun and they sounded SO good. We then went out to dinner at a local restaurant. It was a great night. (More pictures to follow)
In Summary: I am so blessed to have such a sweet and loving husband-to-be. I am thankful that the raccoon stayed in our tree, and didn't decide to have Maggie for breakfast. My very talented kids are very lucky to have Rich in their lives, and so am I. We are ALL very lucky to be in this together, I couldn't pick better companions. It was a truly great week.
More Later
- A Ro