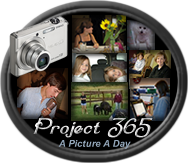 So I am getting my Project 365 up today but I have been pretty non existent lately...I am going to try to do better this week...forgive me???
I had a week full of inanimate objects, however, I did get a picture of both of my kids...that is a big win (not to sound like Charlie Sheen or anything)
Here is my week!!
Sunday March 13:
My Weekly Puzzle
I start the Los Angeles Times crossword puzzle each Sunday and sometimes I even get it done before the next Sunday!! It sits on my kitchen table and I work on it a little bit each day. I don't do any other crossword puzzles but this one.
Monday March 14:
My New Book
I spent some time with my new book today. I haven't finished it yet but only because I keep forgetting to bring it with me when I leave the house...maybe that is the key. But since you can't purposely forget something it might not be the answer after all.
Tuesday March 15:
March Madness
I had to work on this bad boy today per Andrew's demanding. He likes to get everyone's all organized and put together before Thursday. I am one of those who really picks that teams I like until the final 8 and then I go with the chalk (top seeded). I never do very good in our pool, but I still love college basketball and have fun watching the games.
Wednesday March 16:
Such a Cute Nerd
My girl had to dress up for her book report commercial today and she had to be a nerd. She had high knee socks and flip flops and her 3-D glasses worked perfectly to complete the outfit. So cute.
Thursday March 17:
St. Patrick's Day Sports Assembly
She had her winter sports assembly today. She got to wear free dress with green, had to bring sports uniform for her assembly, and had to bring her chorus shirt for a picture. Lots of wardrobe changes today.
Friday March 18:
A New Toy
Rich and I had some time to kill before the Dance Concert tonight so we went to the mall and I spent a gift card on this new French Press. We tried it out last night and I loved it. It makes really good coffee.
Saturday March 19:
Did I Mention It's Baseball Season?
Another game today. Do you think he is happy that I took this picture? Yeah...I decided I don't care. I can take as many pictures as I want...I am the mama.
In Summary: I am a word nerd who loves college basketball even if I can't pick 'um. I love my new French Press and I will work hard to ignore the fact that coffee through a paper filter is better for you. OCD much?? I have a cute girl whether she is a nerd or practicing to host the oscars with her wardrobe changes. My boy might not like his picture taken, but gosh darn it he just better get used to it.
More Later