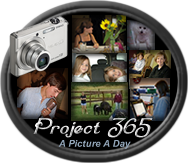 Phew...the hard part of the move is over!! Here is my small and feeble attempt to head back into the blog world. My Project 365 from last week.
Sunday:
My Life In Boxes...Well Part of My Life
We started the real life packing process this weekend. Now where did I put that can opener??
Monday:
Jazz on the Terrace
Well thankfullly I didn't pack EVERYTHING, because I had a concert tonight. My small jazz group performed at our jazz on the terrace. We joined the other jazz group and the jazz band. Andrew was in the jazz band and really did a nice job on the bass. It was cold and windy and just looking at this picture reminds me of how glad I am that I am always cold and had a jacket with me.
Tuesday:
Cool
Rich works with a guy who's daughter is dating Edwin Jackson, a pitcher for the Arizona Diamond Backs. He got Andrew this signed baseball. Andrew was so excited that he forgot he hates to have his picture taken...gottcha!!
Wednesday:
A Break From Packing
I want to stop packing and play video games too...the mom cried after taking this picture.
Thursday:
Maggie's Ready to go
Maggie had fun playing in the boxes. At least she isn't freaking out too much about the move.
Friday:
Where are We Going??
Maggie spent a lot of time in the car this weekend. Either it freaks her out or she is very excited because all she does is pant and look intently about. Now I need to clean my car BADLY...dog hair everywhere.
Saturday:
A Sneak Peek
Just a quick peek at our new place. More to come!!
In Summary:
Boy do I have a lot to be thankful for!! A new place to live, a great family to move with, and a lot of boxes to unpack...it's like Christmas right??
More Later
- A Ro