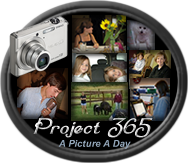 Yesterday when I said that I would have my Project 365 up later that day how many of you rolled your eyes and said to yourself "yeah right"? Well you would have been correct. This only means that you know me all too well!!
Not sure if it was worth the wait or not, but here it goes:
Sunday:
Lazy Maggie
She loves the cool tile floor. Every once in awhile she will put the ball in her mouth, but only if it doesn't require her to put forth too much effort or move too far. Silly puppy!!
Monday:
Too Funny
This morbidly cracked me up.
Tuesday:
Cute Couple
This was taken at Andrew's baseball banquet. I couldn't get a good picture of him, for obvious reasons, so Bella took this one of Rich and I. Just pretend you are looking at Andrew recieving his plaque for a great freshman year of varsity baseball.
Wednesday:
Good Friends
Today was Bella's last day of school. They had a party, of course. She has such good friends and I am so happy that she is a loved little girl.
Thursday:
Graduation Practice (snif snif)
We had graduation rehearsal today. It was a very bittersweet event. I will miss these Seniors and I couldn't be more proud of them.
Friday:
A Bike Riding Girl...Finally
After much pushing and parental nudging, my girl learned to ride a bike. She loves it and is so proud of herself. Me too!!
Saturday:
Good-byes
I graduated 10 seniors today. I will miss them terribly, but know that they are on to new adventures. This picture is of our foreign exchange student who sang with me in choir this year. I had to say good bye to her too. She was an amazing pianist and singer, and I hope she will keep in touch.
I actually got a shout out from the commencement speaker at today's High School Graduation. He used me as an example of a good teacher who strives to instill a sense of community in her classroom. Little old me!!
It was truly a great week filled with many blessings.
More Later
- A Ro