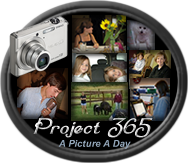 It is time once again to take a peek into my week. I hope you enjoy. Go to
Sara's Blog
to check out the rest of the gang's pictures.



Sunday:
Designer Bag
Bella loves to make gift bags for her friends Birthday's. We just buy the white bags, get out the Sharpies, and she goes to town. This friend got some Penguin and Club Penguin stuff so the bag has that theme too. She is just so artistic.
Monday:
GULP
Today was my presentation at my regional independent schools conference. Everyone said it went really well, but I just think I was a bumbling idiot. Did I mention that I don't like to talk in front of other people?
Tuesday:

I got to go to Isabella's art class this time. Usually she is with her dad on Tuesday's but Andrew had a baseball game so I went to art class. Here are two of her oil paintings she did. Did I mention that she is artistic??
Wednesday:
Instead of showing my backside (again) and lamenting about how being a choral conductor is all about the backside (again) I thought I'd put a picture of Andrew singing in my choir to represent today's event. If you really need to read all about my backside woes, you can go
here
.
Thursday:
Again??

Bella had so sit through another concert. This time it was Andrew's Band concert. He plays the cello and bass in the jazz band. It is really cool to watch, unless you are a 9 year old sister who hasn't had an evening to herself all week.
Friday:
Andrew had another baseball game tonight. He is a freshman playing on a Varsity team. Tonight he got up to bat, and tonight he got a hit into right field. He was on cloud nine. I cannot believe that my little guy got a hit. The pitcher he got the hit off of went on to strike out 5 other of his teammates.
Bella had soccer again today. As you can see it is sunny, a much nicer day. Her team lost, however, but she had fun. Most importantly her mama didn't freeze her backside off. Look at that girl go!! (She is the one in the purple)
In Summary: I have very athletic children, however, they didn't get it from me. My daughter is a great artist, however, she didn't get it from me. I might be able to take some credit for the musical stuff. The only other pictures represents my inadequacy as a public speaker. Wow I really need to re-think the picture taking method I used this week. This diva got shortchanged.
More Later
- A Ro