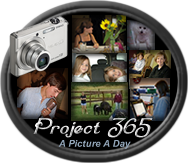 Here we go again!! I am so thrilled to be participating once again with
Sara
and her Project 365. I can't wait to put last years days into a book and remember what a wonderful year we had. 2011 is shaping up to be a great one too. Week one only had one day in it so I am including it on this post. I had a very boring week and my pictures were not too exciting. But it is what it is.
Head on over to
Sara's blog
and check out all the other participants week. I love sharing my life with you all this way.
Enjoy!!
Saturday January 1 2011
Yep...We Start With a Crappy Picture
My new phone is the source of this fantastic picture. It is my brother Greg and my nephew JoJo just as we toasted Happy New Year. I love this picture especially since it has the game we were attempting to play, and a guy eating a bagel on TV. Great shot and what a great way to start this Project. (Is the sarcasm too obvious??)
Sunday January 2 2011
Back to Homework
Yep, we came home to homework. Bella just hunkered down and got it done, and managed to give me a goofy look in the process...that's my girl.
Monday January 3 2011
Maggie's Home!!!
Rich went and got Maggie tonight. We were so glad to have her home and we really liked the kennel that we took her too...she even got a little stocking on Christmas day!! We are glad to have all of our family members back.
Tuesday January 4 2011
Cheat Picture
OK...Today my sister Kate put this picture that Bella took on Facebook as her profile picture and I LOVE this picture so I stole it as my Tuesday picture. I miss them!!!
Wednesday January 5 2011
Get to Work
Maggie laid down on the floor just like this. It looked like she was doing her homework. Too cute.
Thursday January 6 2011
Nice Surprise
Two of my favorite former students came to see me today. I love visits from Jacob and Sabrina. I do have the best job around.
Friday January 7 2011
Huh??
My kids were with their Dad this weekend so Rich and I went to browse Fry's Electronics to look for a GPS mounting clip (I know the excitement is killing you). This particular Fry's was decorated in an Alice in Wonderland theme. Totally facinated me, obviously.
Saturday January 8 2011
PIZZA!!
With the kids away Rich and I decided to go to our favorite pizza place. I got out my camera to take a picture and almost missed the pizza. Needless to say, adult conversation coupled with a great pizza made me forget that I was a blogger and need a good picture for today. Silly me.
In Summary: I think the first weeks of January have been completely normal. Nice and normal. We are all back to school, homework and all, and complete with pleasant surprises. No kids weekend equals quiet dinners and errands, but I still miss my Iowa/Arkansas people. May is right around the corner!!
More Later
- A Ro