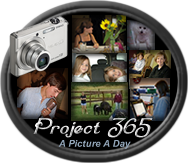 Happy Sunday!!
It has been a great, normal week around here...phew!! Head on over to Sara's and check out everyone else's week.
Here's mine:
Sunday January 16:
Christmas Toys
I broke open my new food processor today!! And as a good daughter of Mike Andrew I read the instructions which included watching the DVD. Thankfully now I know not to touch the moving parts and I will not be at risk of losing any of my fingers...phew.
Monday January 17th:
Results of Breaking out the Food Processor
Today, on my day off, I made apple spice muffins. My new food processor made the shredding of the apples so much easier. Rich's Christmas present is a success!! They are low fat/low calorie and a Cooking Light recipe. Hey...I haven't put up any recipes lately...hmmm, might need to get right on that.
Tuesday January 18th:
Red and Yellow and Green....
First rehearsal today for our high school production of Joseph and the Amazing Technicolor Dreamcoat. (Do you underline or italicize titles??) I am very excited because the music is very good and I love working with these kids!! Not so fun is the late afternoons, but it is all good.
Wednesday January 19th:
Bento Boat??
We decided to try a new sushi place tonight. Bella thought this was the coolest thing...a sushi kids meal. She loves white rice and shrimp almost as much as she likes making silly faces for me...that's my girl!!!
Thursday January 20:
A New Project
Rich decided we needed a new blanket for our cuddle time on the couch. So we went to Michael's and he helped me pick out some new colors and a pattern. Now I know that you are thinking this is sort of a small blanket, but you knit 5 long strips and then sew them together. I am excited to have a new knitting project.
Friday January 21:
Fabulous Students
We had a dance and blocking rehearsal today. We got a lot done and Scott wanted to take a picture with all his "Dreamgirls"...they are a hoot. I love my students!!
Saturday January 22:
Another New Toy
I used a gift certificate to purchase a Magic Bullet. My mom has had one for awhile now and she loves her so I decided I should get one too. We bought it at Kohls and preceded to take it right back after we opened it and found it to be missing over half the pieces...geez. Thankfully we now have a complete package!!
In Summary: A nice and normal week!! Lots of fun rehearsals and new projects. Now with that I have some new cooking toys I can't wait to try some new recipes...maybe I'll post some, but don't hold your breath.
More Later
- A Ro