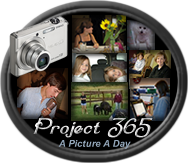 It is once again time to look into my week. A picture for everyday of my year. What a great way to remember these days that go by so quickly.
Sunday:
Recycled
My Mom had this messenger bag that she gave to Bella. We went and picked out some patches and ironed them on and then puffy painted around them. She loves it and I love the fact that I don't have to go out and buy a new school book bag...Win Win!!
Monday:
I'm Ready, I'm Ready
My planner and my to do list all ready to go for the first day of school. Not too long of a list...and my first couple of days aren't too busy. That is the way I like it...ease back in.
Tuesday:
My Big Boy
Thanks to my friend Lisa we got a picture...he smiled because he didn't want to look bad in front of another faculty member...good move by me. He looked so good.
Wednesday:
Wow!!
This is what my girl did in her after school art class this week. I can't believe how good that is. She has been working very hard and making such wonderful art works. I am so proud of her.
Thursday:
Bella's Turn
Bella started Fifth Grade today. What a big girl she is becoming. She was very excited about her new year and her new teacher. I can hardly take it...
Friday:
Ooops
My intent was to take a picture of our desert BEFORE we ate it, but I guess the call of the cheesecake was too much for me. Rich and I had a date night. We went to eat at PF Changs and then went to the mall and had a piece of Cheesecake Factory cheesecake. It was very yummy, as you can tell. We had so much fun and must have sat at this table just talking for an hour or so. Sometimes we find ourselves just talking and talking about the years between High School and when we found each other again. So much to find out about this amazing man. I enjoy these talks so much.
Saturday:
Movie Night
We found a park that held a movie night. The movie was The Princess and the Frog. I had not seen it so I talked Rich and Bella into going with me. We got our lawn chairs, ordered food from a local Mexican restaurant, and sat under the stars and watched the movie. We all really enjoyed the movie and the time spent together. Next weekend is Old Dogs, so we'll have to go again!!
What a great week!! School started, but we still had time to spend together as a family. I am going to enjoy a long weekend and great second week of school. You'll have to visit next Sunday to see what that looked like!!
More Later
- A Ro