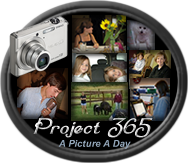 Project 365 sneaks up on me again!! It was a very "normal" week, but great none-the-less. Click the above button and head over to Sara's and see all the other Projects. They are truly a great way to spy on the "Jonses"...
Here is my week.
Sunday:
Tired Girl
We walked about 2 miles to our favorite breakfast place, The Corner Bakery, and Bella scootered with us. She was very surprised at how tired she was after scootering for that long. This was her face when we reminded her that she had to scooter all the way back home. However, she did get a very yummy cinnamon roll for breakfast.
Monday:
Soccer Chick
Yes ANOTHER soccer picture, but the look on her face at practice was so cute she was looking at me taking her picture as if to tell me to stop it. Not another kid who doesn't like to have their picture taken.
Tuesday:
Brown Paper Packages Tied Up With String
The boxes my Mom from our trip to Iowa and the wedding came today. I did not open them until Saturday, sad to say. I love remembering all the things I packed up to ship. Some wedding pictures were in there too. Fun!!
Wednesday:
My New Obsession
Don't get me wrong I still have my Words With Friends obsession and, of course, my obsession with shoes, but this one fills so many needs that those other two can't. Easily accessible without internet connection and free. Those two things spell trouble. Here is the other problem. Andrew used my i-touch and got a really high score, so my high score is really HIS...see the problem?? Love my Doodle!!
Thursday:
Creative Girl
At after school care she made dogs out of legos but the coolest part, according to her, were the color duplicates. She has always loved color and I thought they turnded out pretty good!!
Friday:
My Big Girl Sami
My sister-in-law sent me some pictures of Tyler and Sami's first days of school. This one really made me smile. Look how beautiful she is, and that smile just melts my heart.
Saturday:
Thank You
I made thank you cake pops for Rich's work. They gave us some money for our wedding with the instructions to go out to a nice romantic dinner. I decided to make cake pops as an appropriate thank you for a group gift. I also made them for my students...just cause I love 'em.
In Summary:
A very normal week...finally. It was the first full week of school and we made it with flying colors. I, obviously, am taking full advantage that Bella will still let me take her picture...thank goodness.
Next week on the blog:
I will post a new recipe, post a new Tell Me Why Tuesdays, I'll let you know how my weekend went (and if it continues to go the way it is it will be a real exciting post...not) and of course the Random Dozen. I am also thinking of doing some posts about PAS (Parental Alienation Syndrome). I have been doing ALOT of research about this subject and really feel like this subject is not talked about enough. Rich and I are looking into doing some advocacy work with this cause, and I am starting to feel like my blog can become a small part of getting the word out on this horrible subject and hopefully getting some things to change. Don't worry it won't be a big part, just a part. It is something very near and dear to who I am as Mrs. A Ro.
More Later
- A Ro