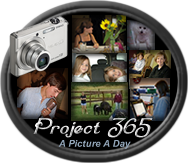 My project 365 is a day late because yesterday I did a post for my sister in law's birthday. So here is my week in pictures.
Sunday:
New Cooking Light Recipe
I tried a new Cooking Light recipe. It was Mushroom and Onion Patty Melt. I love rye bread and this sandwich was very tasty. I hope to post the recipe this week.
Monday:
CHUCK!!!
I know this is cheating as I didn't take this picture, but it was the highlight of my day today. It was the season premiere of our favorite show. It was great to all sit and watch together. I love Monday nights.
Tuesday:
Sicky Girly
Bella woke up with a fever, sore throat, and runny nose today. Even though it was just a common cold she had fever so we stayed home. This picture shows her pouty sick face, but in reality she is such a good sick kid. She doesn't complain and is still her good natured self.
Wednesday:
Christmas Already
We were at the mall tonight and we saw these decorations. I was aghast, until I saw a sign that said they were filming a movie at the mall so they had decorations up. I wrote a post about it
here
.
Thursday:
A Bad Picture of the Farmer's Market
We went to the Farmers Market tonight. Got some really yummy peaches and strawberries. Also some avocado...I love avocado. I forgot to take a picture so this is as we were leaving. I know, better luck next time.
Friday:
Photographer Bella
Andrew was at a friends house tonight so Bella Rich and I went to get frozen yogurt after our errands and trip to the mall. She was snapping pictures and got this good one of us. I love my weekends with her.
Saturday:
LA Live
Andrew got tickets to the Muse concert for his birthday and he took his friend David. It was at the Staples Center so Rich and I drove them down there and saw a movie and hung out at the area downtown called LA Live. It was a very cook area. We had lots of fun, but no Bella this time she was at her dads.
In Summary:
Not the best pictures this week. My recipe pictures didn't really show how yummy it was, Bella had the red eye going and some of the pictures this week I didn't even take myself...Geesh...I'll try better next week. I had a very busy weekend with lots of driving...have I mentioned how much I hate driving?? Thankfully all I had to do was ride...thanks Rich. I took care of my sicky girly and didn't even get sick (she says knocking on wood) and the good news is I have a whole new week ahead of me.
More Later
- A Ro