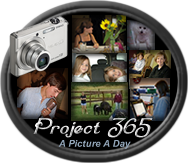 Well we have moved into February this week and all I can say is that I am (sorta) glad I live in California because I think we are the only state with some "normal" temps. Anyway take a peek at my "normal" week here in California and they head over to
Sara's
and check out some of the other participants weeks, I bet you'll see some snow pictures!!
Here is my week:
Sunday January 30:
Aaaaflllaaackkk
We went to the park after the library on Sunday and got out to see the ducks. Bella thought that this one looked like the Alfac duck. It seemed like he just wanted his picture taken.
Monday January 31:
Rocker Dude
Today was our school's battle of the bands and here is Andrew who played bass in one of the two bands. It was SO fun to watch him. And I know, as my sister-in-law stated, I better watch out because the girls dig them some rock stars!!
Tuesday February 1:
Nana's Lighthouse
Bella finished her lighthouse picture today. She will be giving this one to her Nana because Nana loves lighthouses. We just need to figure out how to get it to her. She is really good, if I do say so myself.
Wednesday February 2:
Another Bella Original
This picture of Bella's got chosen to be displayed in the lobby of our theater. It is such a cool picture. I love the diversity of the people walking.
Thursday February 3:
Fairy Princess Allie
Here is my silly girl Allie. It was senior night for cheerleading so all the senior cheerleaders got to sport the fairy princess look. Allie loves the magic wand and thinks she might just keep it "just in case"...
Friday February 5:
You Can Hide in the Back, but I'll Find You
This weekend my school hosted a big independent schools honors music festival. Andrew sang bass in the choir. It was a fun evening of meeting new people and lots and lots of singing!!
Saturday February 6:
The Culmination
Following another 4 hours of rehearsals we had our big honors choir concert this afternoon. You can just see Andrew in the top right corner of this picture. All my students had a wonderful experience and the conductor was just amazing. What a great day!!
In Summary:
Talented kids, students, and a duck summarize this week...ha!! I love that I have such talented kids, but am fearing the phrases: "Hey mom the guys and I are going to skip college and go on tour" and "Hey Mom, I am going to sell all my posessions and move into an artist colony up in Northern California...hey do you like my new Birkenstocks??" Just kidding (sort of) I really do hope their talents take them very far!!
More Later
- A Ro