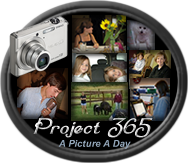 It is week 7 of Project 365 and we are fast approaching the half way mark of February. This means two things to me at the moment 1)Valentine's Day is around the corner...woohoo and 2) my spring concert is creeping up on me...YIKES.
For now I am happy to post the pictures of my week...enjoy!!
Sunday February 6:
Costco for Lunch
Bella was complaining because we were dragging her to Costco. She had never been before and, well, lets just say now she would like to buy a tent and camp out right next to the 10 gallon jugs of pickles. It was the endless supply of free samples that got her hooked. She was at 11 samples by the time we left. She had a blast.
Monday February 7:
My New Obsession
OK, I am such a word nerd, (or at leas a fan of 3 and 4 letter words...ha ha.) Words with Friends AND Boggle...wow. Each itouch obsession can be squarely blamed on Andrew...all his fault.
Tuesday February 8:
Cutie Bella
Forgot to take a picture today so tonight I was looking around and this picture of Bella when she was 3 years old and it just struck me...so I snapped this one for today. She is holding a heart that says "I Love You". Break my heart!!
Wednesday February 9:
Bella Got Her Some 10 Bucks!!
Nana's Valentine's box came today (sorry Mom I thought we got it Friday but then I looked back at my pictures)...Bella loves getting surprises from Nana and she can't wait to give out the cute Valentines to her classmates. She will more than likely save the money...that is just the way she rolls. Andrew got some money too. Thanks Nana!!!
Thursday February 10:
Hello Old Friends
I broke these bad boys out today for my workout. I really like to spin, but for some reason I haven't done it for awhile...maybe too busy running. It felt good and I got a good workout.
Friday February 11:
Coffee House
Tonight was our school's Coffee House. It is sort of an open mic night. They set up tables, bean bag chairs and lava lamps and we get to hear all sorts of talent, from singers to poets. My wonderful student Katharine (hi Katharine) took this picture and I love it. Andrew played bass in the "house band" which provided music between the acts. I actually got a picture of him so I'll post that tomorrow on my weekend wrap up post. We had a great time.
Saturday February 12:
Beauty Salon
Bella wanted her nails painted for Valentine's Day so mama did her best impression of a beautician and Bella got some blue nails with pink hearts.
In Summary: It seems like this week was a lot of object pictures. We worked out, got some surprises, had a wonderful night out supporting my amazing students, and Bella found a new hang out spot in Costco. In my book this was a great week!!
More Later
- A Ro