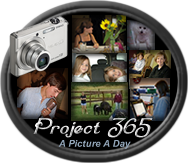 It is time once again to post my week in pictures. It was another great week around here and I am excited for the long weekend that is ahead of me...NO SCHOOL MONDAY!!!
I hope you all had a great week and be sure to head on over to Sara's blog and check out all the other participants...it is a lot of fun to see what everyone else is up to.
Here is what I have been up to:
Sunday February 13:
A Pollock Valentine Cookie
We decorated our Valentine's cookies today and Bella decided that she wanted to make a Jackson Pollock style cookie. It was beautiful and we she did eat it...usually we have to "save" all of her food creations.
Monday February 14:
Happy Valentine's Day...Dude
Bella needed to make a Valentine's hat...where does she come up with these ideas!! I am most impressed by the fact that she had the patience to color that entire heart with a marker...
Tuesday February 15:
Gotta Love Good Friends!!
I went to eat lunch with Bella today and snapped this picture...and they wonder why she has trouble not socializing in class.
Wednesday February 16:
Awwww
My sister-in-law sent me this picture today of my neice Sami and my brother Ryan at a Daddy Daughter dance at their church. Rich and his daughter went to this same dance a few years ago and I love the picture of the two of them all dressed up. What a special time with your daughter.
Thursday February 17:
Pay It Forward Giveaway
I posted a giveaway on my blog today and here is the prize.
Here
is where you can enter the giveaway.
Friday February 18:
My Best Attempt at a Picture
Forgot to snap a picture today, but Rich and I went to see this movie tonight and we both laughed out loud numerous times. A pretty good movie for one of its kind. PLUS Dave Matthews is in it...what a nice surprise!!
Saturday February 19:
Oh My Gosh Good
Rich and I went on his Valentine's gift food tour today of Old Town Pasadena. He kept saying all day that this was the best gift he has ever gotten. I am going to do a post later this week with more pictures...it was truly a great day. This is one of the restaurants we sampled. It was SO good we went back for dinner. It was a great day.
In Summary: I am feeling a lot of love up in here this week. Love of my girlie, love of a daddy and his daughter, love of good friends, spending time with my love, and don't forget love of FOOD!!! Head on over to my giveaway so I can send some love your way.
More Later
- A Ro