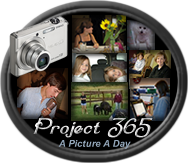 Bella and I were baking all weekend...no seriously ALL WEEKEND. Just ask Rich. He is just the best. Not only does he put up with all the baking he even picks up the slack. He probably would have done this post too!!
Anyway here is my wonderful week:
Sunday:
Hello Old Friends

It rained all week here in sunny Southern California. So I dug out my boots, raincoat, and umbrella. They haven't seen much action so far this year, but this week more than made up for it.
Monday:
Rainy Days and Mondays
They really don't get me down. Truth be told, I love this kind of weather. It was so neat to sit at soccer this afternoon and watch the sky and the scenery. Loved it.
Tuesday:
Toto, Are We in Kansas??
Tried to capture the ominous sky today. It was actually thundering and lightening. Yes...crazy. (I liked it a lot)
Wednesday:
Bella Bella Are You OK???
Bella's foot has been bugging her so we went to the Doc today. It is just overuse and growing pains. I mean soccer, basketball AND dance...overuse...you think??
Thursday:
The Sun Might Come Out Tomorrow
Annie is in full swing with two weeks left to go. YIKES. They are so cute and doing such a good job.
Friday:
Oooooooh...Scary!!
Only with regards to caloric intake. We made cake pops tonight. YUM!!
Saturday:
Handy Man
I have the handiest husband. I told him what I really needed to make my sugar cookies right and while I was at rehearsal Saturday morning he made me this. It worked like a charm and I rolled out my cookies to exactly 1/4 inch.
In Summary:
I got some much needed "Iowa" weather this week. Thunderstorms and all!! I am now done with "Iowa" weather and would like some "California weather"!!! Did nothing but bake this weekend and really enjoyed it. Thanks to my wonderful husband who helped in so many ways. And as far as those growing pains Bella is having, just stop growing Bella!!!