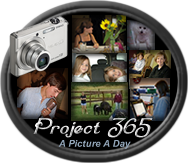 I decided to join Sara at
Make Music From Your Heart to the Lord
for Project 365. We take a picture every day and post them on Sunday's...a sort of pictorial "day in the life". Here are my week's pics...
Sunday
- I posted on my blog that I got
engaged
so I decided to re-post the picture I took last Sunday. It is my amazing ring given to me by an amazing man...
Monday
- Rich (my amazing man) is
obsessed
excited about the
iPod
touch I gave him for Christmas...boys really do love new toys.
Tuesday
- It was my school's Music Alumni Day. Here I am with 5 of my chorus alumni. I just love this day. I just love these guys. The two on the
right
surprised me and just showed up. It was so nice to see them. I miss them all very much. Have I mentioned how much I love my job!!
Wednesday
- We go get ice cream every Wednesday night at
Baskin
Robbins. This little, high caloric, tradition started shortly after my ex moved out. It was my kids and I little weekly ritual. We walked or
scootered
to the store and enjoyed some ice cream. It has stuck and now we include Rich.
Thursday
- This is where my
vacuum
cleaner has sat since last Saturday. It is plugged in and ready to
vacuum
my bedroom. But have I done it yet...no. But it is good and ready should I choose to do so. Let's just say I am a prepared procrastinator.
Friday
- I got a gift certificate to this really she-she-
fru
-
fru
Japanese restaurant in Malibu owned by Robert
DeNiro
. Rich and I decided to have a date night there. We saw Ryan O'Neill but sitting in that fancy restaurant made us feel like fish out of water.
ha ha get it...sushi...fish out of water...ha ha..
**tap...tap...tap...is this thing on?**
Saturday
- I went out to run errands and really thought this view from my front yard was spectacular...so I snapped this picture. I do like some aspects about living in So. Cal.
So there you have it...it is obvious from these pictures that I am excited about getting married, my students, my awkward date night, and ice cream, but really need to just
vacuum
my room and get on with it.
More Later
- A

Ro
P.S. Don't forget to enter my borrow-away...just go to this
post
and post a comment. This ends tonight (Sunday) at 8:00 Pacific Time.