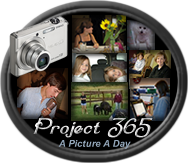 It is week four of Project 365. Go visit
Sara's site
and see what other bloggers weeks look like!!
Here is how mine appeared:

Sunday January 17th, 2010
One, Two, Three, Four, I Declare a Thumb War.
I walk into my daughter's room Sunday night and ask here what she is doing. She tells me that she is having a thumb war with Maggie. This is what our poor dog has to put up with non stop. Thank goodness she is one of those kind of dogs that just doesn't care.
Monday January 18th, 2010
My Best Gals
Monday we didn't have school so Bella and I went to have lunch with one of my most favorite Alumni, Sabrina (Hi Sabrina). It was pouring but Bella and I really wanted to see her before she went back to school for the semester. Did I tell you that Sabrina is an amazing student, a great musician, and she wants to be a doctor?? We miss her already!!
Tuesday January 19, 2010

Who Built the Ark...Noah, Noah...
This picture could have been the picture for everyday of the week. It rained ALL week!! We needed the rain, but geez...all week?!?!?
Wednesday January 20, 2010

Who Will Buy, Who Will Buy, Who Will Buy....My Headbands?
Bella my little entrepreneur wanted to make headbands to sell. She worked oh so very hard and made about 7 headbands. She is most definitely going to be taking care of her mama in my old age, she is a non stop thinker, and oh so creative!!
Thursday January 21, 2010
A Cup of Heaven...Almost
Heaven would be a Iced Venti Sugar Free Cinnamon Dolce Non Fat Latte, but since caffeine is persona non gratis in my diet this is the next best thing, and makes me very very happy. I mean VERY happy. It is a Large Iced Apple Tea Latte No Sugar Added.
I know my beverages of choice are very complicated.
Friday Janaury 22, 2010
The Greatful We're Not Dead
Our Middle School had a battle of the bands. As a surprise to the students some of our faculty put together a band and performed Knockin on Heaven's Door. They were a big hit with the students. I laughed my butt off...not really, oh if it were only that easy!!
Saturday January 23, 2010

You Go Ahead I'll Catch Up
Rich and I ran some errands. I got a new serrated knife at Macy's Home Store. I am telling you I was so excited to get a new knife, I got home and just randomly cut some bread to give it a try. As we were leaving we saw these awesome manikins. I thought they were so funny...I had to pose. I had a couple of other options to pose like them running at me, or over me, but this one was the least odd to the passers by. Now you all know my true personality, by posing for this picture. More importantly you all know Rich's personality for actually taking this picture and for always being my partner in crime!!
In summary: I really think that even with opposable thumbs Maggie's personality would never make her good at thumb wars. Rain will not keep me from the important things in life, food and friends. My daughter needs an Etsy shop, so she can continue to keep fueling my expensive coffee shop drink habit long after I am able to. I teach with the coolest faculty, and am going to spend the rest of my life with a man who is crazy...just like me!!
More later
-A Ro