It is time once again to take a peek into the lives of fellow bloggers with
Sara at Make Music With Your Heart's
Project 365.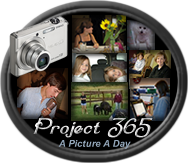 Here is what my week looked like:
Sunday
:
Under One Roof
With the return of Bella and Andrew and Rich being home, I went to bed Sunday night with my family back under one roof...it was really comforting, and I am sure short lived. I will enjoy it while I can.
Monday
:
Ill Prepared
Here are three of my students auditioning for our school's Coffee House. It is an evening with poetry, theater, and music. We decorate our Black Box Theater like a small coffee shop with live entertainment. These three failed to copy the music they needed so they all crowded around the piano with one teeny, tiny, fake book...too funny.


Tuesday:


Why I Love My Job
Musical theater rehearsal, with very very crazy kids. It really makes the long afternoons bareable. Carly and Chelsea are making their chipmunk faces...not really sure why.
Wednesday
:
Invention Convention
Today was the
Fourth Grade Invention Convention
. My daughter's invention was called Lazy Bella's Ball Thrower. It is a device that throws the ball for our dog Maggie so we don't have to get up off the couch. She looks so very cute in her unifom. Don't you think??
Thursday:
Life Changes
It would be nice if all of the pictures of 365 could be happy ones, but you know what that isn't life. Today's picture has been one of a few that will really capture this day. We are losing our house. The divorce, the state budget cuts, and the bottomed out market has caused us to have to short sell our house, hopefully. Today when we got home from school the sign was in the yard. Now before you are too sad for me, to me a house is just a shell, it is what's inside that makes it a home, and I am certain that God has a plan for us. Everything will be just fine, I know that in my heart.

Friday:
Valentine Cake Pops
Bella and I made cake pops for her teachers last night. I forgot to take a picture last night but remembered before we boxed them up today...phew. We had "fun" making them and ALL of her teachers are so glad to get a pop for the holidays.
Sunday:
Running Shoes
This picture is a sad one. I got up to run today. I have not exercised for a week because I hurt my knee and today I took this picture as I got dressed so I could document my first day back on the street. However, I never got my run in. I was a little nervous about doing it as I didn't want to re-injure my knee but I was just gonna do it. Until I went downstairs and my ipod was out of battery...it was an omen. So here is my picture of what didn't not happen today...ha ha.
In summary: I love my job (I know you are all getting tired of hearing that). My daughter is the cutest little inventor there is and hopefully her invention will be the next Snuggie. I need to get my lazy butt out of bed tomorrow morning and hit the pavement...those shoes look awfully lonely!! Most of all I need to start collecting boxes (and ben gay) for the move ahead and thank God each night for the peace I feel.
More Later
- A Ro